Welcome to Sex Therapy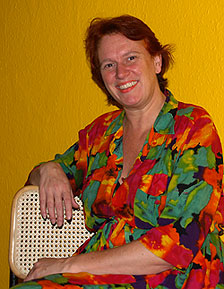 My name is Pia Struck.
I am a psycho-sexual therapist, orgasm trainer, adult educator, gender and sexual minority Therapist and Lecturer.
For over 25 years I have worked with the sexuality of men and women, leading over 350 Workshops.
I can help you heal your past, strengthen the now and enrich your sexuality for the future – regardless of your gender identity or sexual orientation.

Warmhearted greetings!


Get into balance with your new inner emotional life. I look forward to supporting and inspiring you to take new initiatives to expand your sexual universe.
Find your sexual potential
Explore yourself and your sexuality, get inspired to take new initiatives – find new ways to expand your sexual knowledge and skills. Get in balance with your inner emotions, get more fun sexually and connect with your sexuality and your spirituality.
Increase your sexual confidence
Your sexuality is a major part of your personality. Once you know your needs in regards to your sexuality – and dare to say them out loud - you will experience sex as fun and expand boundaries.
Do you want to develop yourself sexually and personally? – if so, attend my workshop.
Be more playful
Gain new knowledge, new attitudes and new skills that will make you have more fun sexually. Live out your fantasies and play with the many differing facets of your sexuality. Create changes in your sex life, have more fun and connect with your sexuality and your spirituality. The Workshop will take you from short tension cums to deep orgasms, multiple orgasms and hour-long states of sexual ecstasy.
Female:
Cherish yourself as a goddess, your body like a temple with your genitals as the gateway to all human life, created for frequent sexual pleasure, welfare and satisfaction.
Male:
Train yourself to achieve higher levels of sexual arousal, pleasure, excitement and satisfaction
Learn to choose when to cum
Learn how to get more dry orgasms, before you choose to cum.
Get a firmer longer-lasting erection and more intense orgasms.