Four-day courses for men and women
This course is aimed to give you a happier sexuality and the strategies and skills for better partner sex.
Usually one course is enough, but you can always buy more time. After half a year, it's a good idea to repeat the course, or go further with one of my orgasm weekends.
Program
1. day:
Video Lecture
2. day:
Names and presentation round, followed by a question and answer session and a good long chat about how individuals feel about his body, his/hers orgasms, his/hers masturbation and partner sex for the last five years.

Illustrated review of the male and female anatomy.

Education in how you can train yourself up to:

Accommodate larger volumes of lust, without losing it (men+women)
Actively dynamically use all your inner resources: Pelvic floor exercises, hip movement and sound on breathing (Pia's "

mixer"

) .
Able to choose when to ejaculate, and become able to separate orgasm and ejaculation to that you can end up getting several dry orgasms before you ejaculate (men)
How you move from small ejaculations to deep orgasms – multiple orgasms and hours-long ecstasy modes.

3. day:
We continue our conversation from yesterday, about how individuals feel about his body, his/hers orgasms, his/hers masturbation and partner sex for the last five years. Furthermore We will talk about your early experiences and what taboos, trauma, limiting beliefs, worldviews and value systems you are dealing with.


At the end of the day, we will look at/admire genitals, so I'm sure you know yourself anatomical and appreciate the design of your genitals.

4. day:
We will watch some scenes from the videos "Fire on the mountain" and "Viva la Vulva", whereby the women are taught the loving self-massage techniques and the men the thirty strokes. In addition, you are taught to discover and reinforce your desire, emotions and we do Pelvic floor exercises, hoftevip and put sound on breathing (Pias "

mixer"

). Furthermore you are taught to find the much talked G-spot - the female prostate gland.

The day ends as we watch the video Uranus.
Fire on the Mountain
Male Genital Massage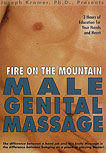 In this instructional DVD, Joseph Kramer Ph.D. teaches the joys of giving and receiving a Taoist Erotic Massage, a form of erotic touch that often leads to a spiritual and transformative full-bodied orgasm.
This three-hour DVD also includes erotic massage demonstrations in German, five additional interviews with erotic masseurs, a resources section as well as sixty pages of text instruction and commentary, including the massage stroke-by-stroke in English, German, and Spanish.

Good Vibrations says: "Treat your favorite penis to the ultimate hand-job, courtesy of the detailed live action instructions. Two male lovers demonstrate 25 different strokes on each other. Male and female viewers alike will be inspired to try them all.".

Margot Anand, author of The Art of Sexual Ecstasy, says: "There is no better DVD to teach a woman the art of male genital massage which is why I use Fire on the Mountain to train my SkyDancing Tantra teachers."
Although Fire on the Mountain was produced for a gay men audience, all men and women are invited to use this instruction to learn Taoist Erotic Massage.
Viva la Vulva
Women's Sex Organs Revealed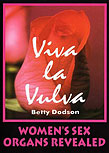 Join Betty and ten other women to celebrate 25 years of her pioneering work to reveal the beauty of women's genitals. In 1973, she began her Bodysex workshops where Genital Show & Tell became a powerful healing process.
Observe this group of courageous women, ages 25 to 68, gathered to honor women's sex organs with intimate images of their own vulvas. Hear women speak about the relationship they have with their genitals. Watch them trimming and shaping their pubic hair in preparation for their pussy portraits, then the actual photo session, followed by their own artwork inspired by the photos.
Follow along as Betty guides the women through her ten suggested steps for genital self-massage. Become part of this joyful group in applauding the diversity of Mother Nature's most exquisite work of art, the divine vulva.
Uranus
Self Anal Massage for Men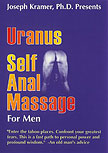 Anal pleasure and health are important frontiers to be explored. This DVD offers complete instruction in self anal massage. Learn impeccable hygiene, enemas, sphincter muscle toning, and relaxation of the butt muscles. Explore the pleasures of sphincter massage, enlightened prostate massage, and simultaneous anal and genital stimulation. Discover the best positions, toys and dildos to maximize your pleasure.
This self anal massage can be important for men's emotional health, since the anal area is a place where we hold our paranoia and fears. It can also be extremely relaxing, pleasurable and erotic.