About Pia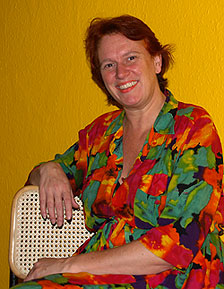 My name is Pia Struck. I am sex therapist, orgasm trainer, adult educator and lecturer.
I am a qualified Body & psychotherapist from The Institute for Creative Psychotherapy in 1991, adult educator from The Adult educational center in 1999, Orgasm trainer with Betty Dodson in New York in 2001 and gender and sexuality minority Therapist from Pink Therapy in London in 2010.
Besides this I have several years of self-therapy and since 2001 used Betty Dodson method as the grounding of my work as a sex therapist.
In September 2008, I gain international respect and recognition since my methods were scientifically documented in Scientific World Journal as one of the most effective, at all, to treat women who have difficulty obtaining orgasm – 93% of my female have orgasm, while I am teaching.
Mission
Helping people to be happier for their sexuality and get even more out of it. Give them sexual confidence, depth, and make their sexuality into something everyday – make it even better.
My method is sex education for adults in many different ways and sexual healing through sexual coaching.
Vision
Good sex can be taught. My vision is to create a sex positive society, which is tolerant and gives people the possibility to live out their complete, sexual potential.
Passion
In this life, I feel that I am born to be a sexual healer. There is often spontaneous healing and great transformations in my work. I've got light, power and love as a gift. It is my love and passion to create sexual abundance in the lives of others – because I'm engaged.
As a sex educator I bring new useful sexual knowledge, sexual abilities and new attitudes toward sex, which creates sexual confidence.
I create a safe space where people can develop, reinforce people in designing their own sex life with variety and diversity. By pointing out what is possible, I make people able to live out their full sexual potential.
Being a part of a larger whole, with all my sense of being me, using all my personal skills, I try to create a sex positive community that goes beyond my own Danish – my spiritual contribution to a caring, loving and emotionally nourishing world.
This leaves me touched, moved and inspired.

From light and love