Video Lecture
- an introduction to my universe.
Takes place Friday evening at my orgasm weekends, but is for everyone interested, regardless of gender.
Contents
Learn about female anatomy, sexuality and orgasms. We watch Betty Dodson three videos
Viva la Vulva
,
Celebrating Orgasm
and
Selfloving
. On the way I elaborates make comments and answer questions.
We eat together while watching the other video.
Viva la Vulva
Women's Sex Organs Revealed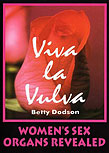 Join Betty and ten other women to celebrate 25 years of her pioneering work to reveal the beauty of women's genitals. In 1973, she began her Bodysex workshops where Genital Show & Tell became a powerful healing process.
Observe this group of courageous women, ages 25 to 68, gathered to honor women's sex organs with intimate images of their own vulvas. Hear women speak about the relationship they have with their genitals. Watch them trimming and shaping their pubic hair in preparation for their pussy portraits, then the actual photo session, followed by their own artwork inspired by the photos.
Follow along as Betty guides the women through her ten suggested steps for genital self-massage. Become part of this joyful group in applauding the diversity of Mother Nature's most exquisite work of art, the divine vulva.
Celebrating Orgasm
Women's Private Selfloving Sessions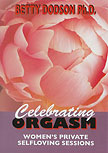 Observe five uniquely different women, ages 26 to 62, practice and achieve the ecstasy of orgasm during a private session with Betty Dodson.
See her encourage a client to speak lovingly about the beauty of her vaginal flower. Watch each woman practice masturbation while Betty sits alongside doing actual hands on coaching as she teaches slow penetration, rhythmic squeezing of the PC muscle, rocking the pelvis, breathing outloud, and making sounds of pleasure while using different forms of clitoral stimulation that include fingers and electric vibrators.
Then hear from the women themselves about the dramatic results of their private session: Increased self-knowledge, heightened self-esteem, and enhanced partnersex. Finally, enjoy how Betty uses earthy humor, straight forward language, and her own personal experience to teach sex.
Selfloving
Women's sexuality workshop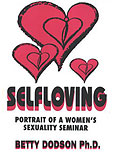 Betty's documentary film of one of her womens' masturbation workshops. Ten women, ages 28 to 60, interact in the nude to confront false modesty. The erotic finale is a celebration of selfloving filled with authentic orgasms. The result is both educational and extremely exciting.
Sex education as an erotic treat.
A documentary of Betty's famous Bodysex Workshops. It begins with 10 women ages 28 to 60 sharing details of their sexlives. They do a genital exam or what Betty calls Genital Show & Tell as she points out the beauty of each vulva.
At the end, the women masturbate in a group under Dr. Dodson's guidance using electric vibrators. The camera moves around as if fascinated and you will be, too! This is sex education as an erotic treat. A healing and enlightening journey for women of all ages and the men who love them.